Nintendo Switch™ Pro Controller Splatoon 3 Edition
Available to Pre-Purchase
: 09/09/2022
Pre-purchase now for 9th of September release!
Take your game sessions up a notch with the Nintendo Switch™ Pro Controller Splatoon 3 Edition.
A wireless controller with the form factor of a traditional controller, comfortable and great for gaming for long periods of time in TV mode and tabletop mode.
Includes motion controls, HD rumble, built-in amiibo™ functionality, and more.
Product Features:
Unique design celebrating Splatoon 3

Includes USB charging cable
Size: 106mm x 152mm x 60mm (approx.)
Weight: 246g (approx.)
Connectivity Functions: Bluetooth 3.0, NFC (near-field communication)
Sensors: Accelerometer, gyroscope
Vibration Feature: HD rumble, capable of varied and precise vibrations
USB Connector: USB Type-C connector, used for charging the Nintendo Switch Pro Controller
Internal Battery: Lithium ion battery [CTR-003], Capacity: 1300 mAh
Battery Life: 40 hours (approx.)
Please note: this is the estimated battery life. This may vary depending on the usage conditions
Charging Time: 6 hours (approx.)
Please note: charge with the AC adapter [HAC-002(AUS)] or the enclosed USB charging cable
---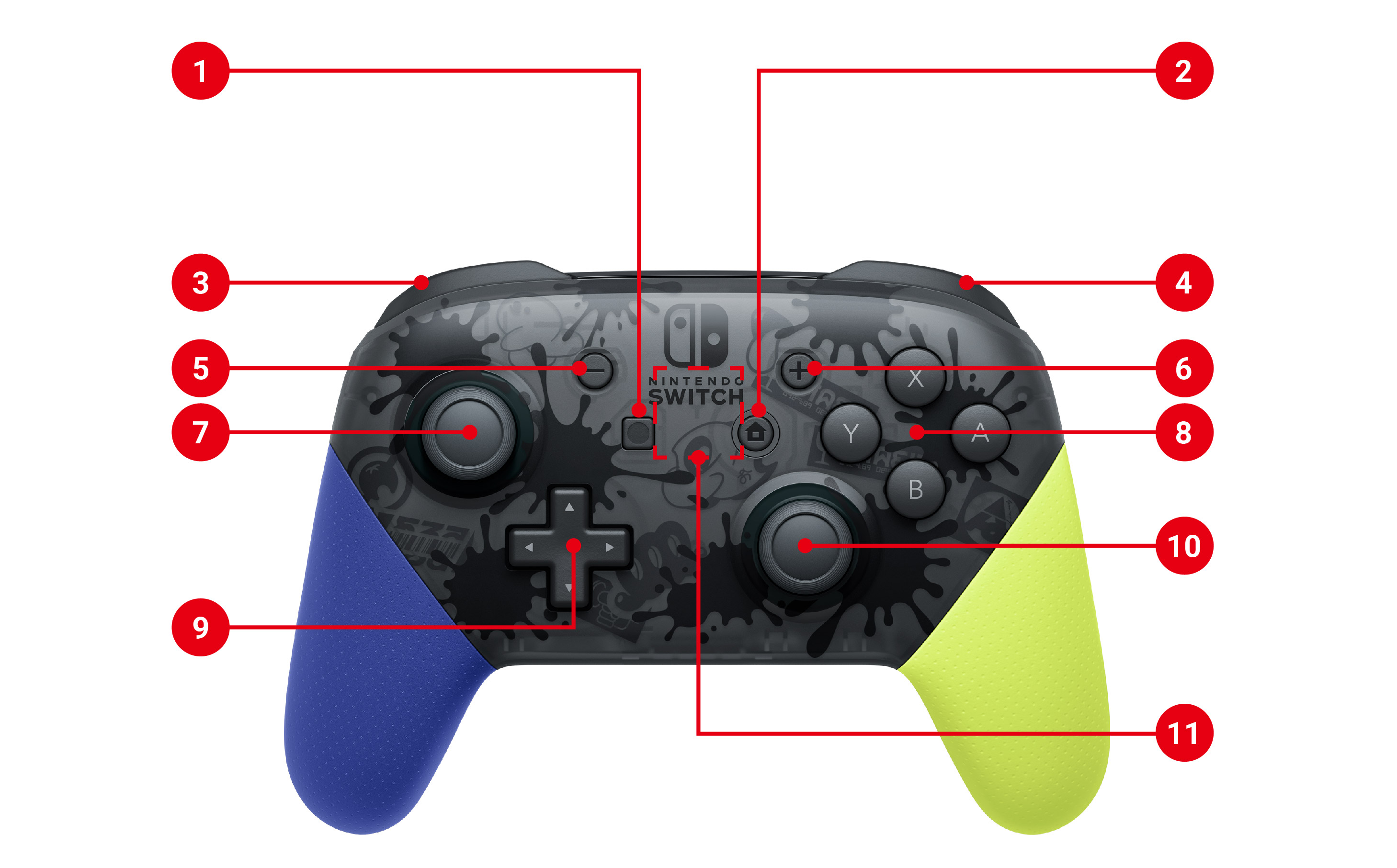 Front:
1. Capture Button: Takes a screenshot during play
2. HOME Button: Suspends the current software and opens the HOME Menu. The HOME Button blinks when you have a notification.
3. L Button
4. R Button
5. - Button
6. + Button
7. Left Stick: Functions as a button when pressed down.
8. A/B/X/Y Buttons
9. + Control Pad
10. Right Stick: Functions as a button when pressed down.
11. NFC touchpoint: You can touch amiibo here to read and write data to them (amiibo not included).
Back:
12. USB Type-C connector: You can use the enclosed USB charging cable to pair the controller with the console or to charge it. You can also connect it directly to an AC adapter.
13. SYNC Button: Used to pair the controller and reset the wireless connection with the console.
14. ZR Button
15. ZL Button
16. Recharge LED: Lights up when the controller is charging.
17. Player LED: Located on the bottom of the controller. It indicates your player number.